Welcome to the Bamboo Traveler
Hi! I'm Julie, the Bamboo Traveler! My mission is to spark and fulfill your curiosity about the cultures and destinations of Asia. From the Great Wall of China to the Wailing Wall of Jerusalem and from the steppes of Mongolia to the ancient Indus River Valley of India, this vast continent has so much to offer the inquisitive traveler.
Asia's cultures, histories, cuisines, languages, architecture, and religions have fascinated me ever since I stepped foot on the continent over 25 years ago. I hope to share with you my passion and knowledge of this part of the world in order to help you travel there, whether it's from the safety of your armchair or through the pages of your passport.
Explore Recent Travel Posts
There are so many things to do and see in Hue. Unfortunately, most travelers to Vietnam have time on their itinerary for only 1 or 2 days in this historic city. In this jam-packed Hue itinerary, I'll share with you exactly how I was able to see all the most important sights and try all the must-eat dishes in just 2 days. I'll also tell you where to stay, how to get around, and how much everything will cost.
read more
Planning a trip and looking for the perfect 3 days in Ho Chi Minh City itinerary? This jam-packed itinerary guide details how to find the best of this vibrant and cosmopolitan city's food, history, and culture.
read more
Explore Recent Book Challenge Posts
If you're like me and you love to read up on the place you're traveling to, then you'll find yourself overwhelmed by all the choices of books on Vietnam. I swear the number of English-language books on this country could fill a small public library. What does it say about Vietnam that people have so much to say about it? Probably it's because of all the tragedies the country has experienced over the past 100 years. Tragedies make the best stories. Anyway, there are lots and lots of books on Vietnam to choose from. The good news is that many of them are damn good. I mean...
read more
I have to admit that the first Murakami novel I read, I hated. It was Wind-Up Bird Chronicle. But let me explain something: before I had read it, I had no idea what I was getting myself into. I knew nothing about the kind of magical realism Murakami uses, so while I...
read more
Whether you're looking for books on Sri Lanka for future travel or to escape from this pandemic, here is a list of the 20 books (yes 20!) that I have read on this fascinating and complex country. You'll find a list of fiction and non-fiction books. Nearly all the...
read more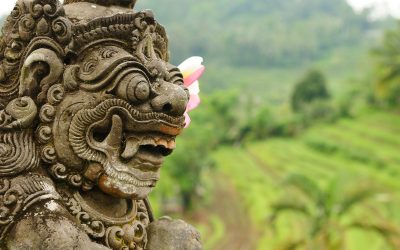 I've wanted to visit Indonesia ever since I was a young girl in my twenties. There's just something about a country of 17,000 islands that has always intrigued me. I even had a plane ticket heading to Denpasar, Bali in April.  I never made it. You all know the story:...
read more
Explore Recent Book Reviews