Shirakawa-go makes the perfect day trip from Takayama or the perfect day trip from Kanazawa. It also makes a great stopover when traveling from Takayama to Kanazawa or from Kanazawa to Takayama. Here is my suggested  Shirakawa-go itinerary for 1 day.  I've also included information on how you can stay overnight in Shirakawa-go.
Can't physically travel to Japan right now? Check out my list of 30 of the best books on Japan that you can read from the comfort and safety of your home.
Disclosure: This post may contain affiliate links.  As an Amazon Associate and a Bookshop.org Associate, I earn from qualifying purchases.  Please see this website's Disclosure for more info.
Why Visit Shirakawago
The main reason to visit Shirakawago is to see the gassho-zukuri houses. There are whole villages filled with these regionally unique houses. Gassho-zukuri literally means "constructed like hands in prayer" and comes from the fact that the roofs of the houses look like two hands coming together in prayer.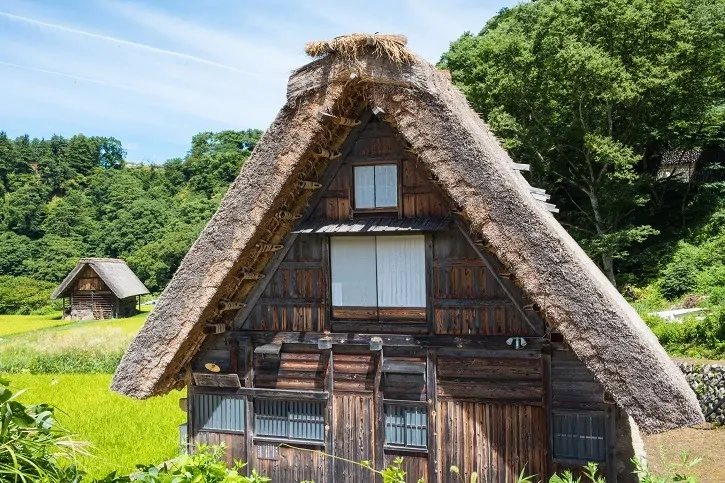 About Shirakawa-go?
Before we get into the details of this itinerary, let's clear up a few things about Shirakawa-go.
(1) There are 2 regions with Gassho-Zukuri houses: Shirakawa-go Region and Gokayama Region.
(2) Shirakawa-go is both the name of a region and the name of a village.
(3) Shirakawa-go Village is also called Ogimachi Village.
(4) Shirakawa-go is spelled in 2 ways: Shirakawa-go and Shirakawago. They are referring to the same place.
1. Shirawaka-go Region
The main village that people visit in the Shirakawa-go region is Shirakawago Village (also known as  Ogimachi Village), a UNESCO World Heritage Site.
When you buy your bus ticket to the village from the bus station in Takayama or Kanazawa, just say you want to go to Shirakawago. Everyone will understand that you want to go to the village.
I'm not sure what the reason for the 2 names is. My guess is that the original name is Ogimachi but everyone just refers to it as Shirakawa-go.
2. Gokayama Region
The two main villages in the Gokayama region with Gassho-zukuri houses are Suganuma and Ainokura.  They are also UNESCO World Heritage attractions but are smaller and not as touristy as Ogimachi in Shirakawago.
Most people just visit Shirakawago Village because it's easier to get to by bus from Takayama and Kanazawa than it is to get to Suganuma and Ainokura.
You can get to Suganuma by direct bus from Kanazawa. Check out the Nohi Bus Schedule. As of October 1, 2022, I only see 2 buses a day going to Suganuma (9:10 am and 14:40) and 2 buses going back to Kanazawa (11:20 and 16:20). However, according to the Nohi Bus website as of October 1, 2022, those times are suspended.
You used to be able to get to the Gokayama villages by bus from Shirakawago, but I can no longer find that information.
Guided Tours of Shirakawago: If you don't want to deal with the bus system or want a guide to tell you more about what you're seeing, you can instead join a tour of Shirakawa-go from Takayama or Nagoya. They're reasonably priced. Here are some tours to check out:
How long to spend in Shirakawa-go
You can do either a day trip or stay overnight. Both are easy to do.
1. Day Trip to Shirakawago:
If you're short on time, your Shirakawago itinerary can easily last one day and you'll feel like you've seen enough.
Arrive no later than 10:00 am and then leave on the 3:00 or 5:00 pm bus. The last bus leaves at 5:30 pm.
I did the day trip.
2. Stay Overnight in Shirakawago
I wish I had stayed overnight instead of doing a day trip.
During the day, it felt like there were only tourists in the town and no actual residents.
Supposedly, after 5:30, Shirakawago empties of tourists and becomes more peaceful.
It would have been nice to get some shots of the town during the golden hours of dawn and dusk and to walk around and enjoy the scenery without the crowds.
So, if you have a chance, try to spend the night.
How to get to Shirakawago
You can get to Shirakawago by bus from Takayama, Kanazawa, and Toyama.
From Takayama, it takes 50 minutes, from Kanazawa 75 minutes, and from Toyama 80 minutes.
You can see all the different bus routes around the region on this fantastic map.
The perfect way to tour this area is to travel from Takayama with all your bags (store in a compartment under the bus), stop in Shirakawago for the day (store your bags at the bus station there), and then take a bus at the end of the day to Kanazawa.
You can also do it in the opposite direction by starting in Kanazawa and ending in Takayama.
I started in Takayama, which is the route I'll explain below:
Takayama to Shirakawago:
Buses leave Takayama from the Nohi Bus Terminal (also called Takayama Bus Center), which is next to the train station.
There are 2 types of buses:
1. Reserved (R) – When you buy your ticket, you are guaranteed a seat. These tickets sell out quickly.
2. Unreserved – When you buy your ticket, you are NOT guaranteed a seat and therefore you might not get on that bus. I guess they sell more tickets than they have seats for.
My Experience Getting to Shirakawago:
I went to the bus station to buy my ticket one day before my trip to Shirakawago and the reserved tickets for 8:20 were all sold out, so I bought an unreserved ticket for 8:50 am.
When I arrived at the bus station at 8:40, the line to get on the bus was so long that not everyone was able to get on the 8:50 bus.
I was the fifth person in line when it was announced that there was only one seat left. Because I was traveling solo and everyone else before me was traveling in a group, I luckily got to jump the queue and get on the bus leaving at 8:50.
Supposedly, the bus station found another bus to take the people who had tickets but could not get on that 8:50 am bus.
My advice for you is to arrive at the bus station EARLY!
Bus Schedules from Takayama to Shirakawago (May 23, 2023):
This is the bus schedule as of May 23, 2023.
Tickets cost ¥2,600 one way for adults and ¥1,300 for children.
Please check the most up-to-date schedule on the Nohi Bus Company's website.
You can now book reserved tickets online up to one month in advance of your departure on the Nohi Bus Company website.
How to Get from Shirakawa-go to Kanazawa
When I bought my ticket for Shirakawago at the bus station in Takayama, I also bought my ticket from Shirakawago to Kanazawa.
Luckily, I was able to get a reserved bus ticket leaving for Kanazawa at 5:30 pm from Shirakawago. My bus arrived in Kanazawa at 6:45 pm.
As of May 23, 2023, the price of a ticket from Shirakawago to Kanazawa is ¥2,600 one-way for adults and ¥1,300 for children
Please check the Nohi Bus Company's website for the most up-to-date schedule.
You can also buy your tickets online up to one month before departure on the Nohi Bus Company website.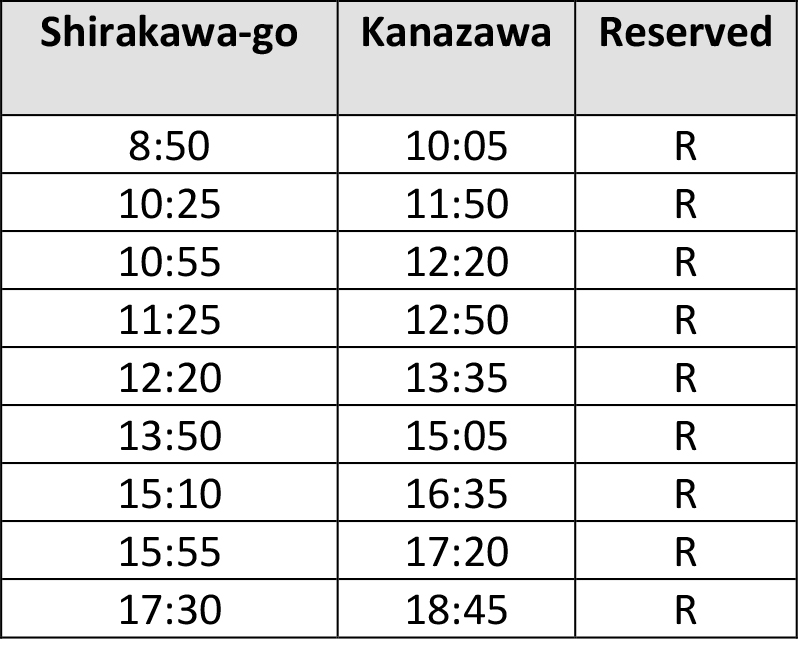 Where to store your luggage in Shirakawago
The first thing to do when you get to Shirakawago itinerary is to store your luggage.
When I was there, there were two options for storing your luggage:
1. Lockers – There were lockers on the outside wall behind the bus station. The small lockers cost ¥500 (US$4.50 / €4) and the big ones that could hold 2 large backpacks cost ¥1,000 (US$9 / €8). You could only use coins for the lockers. But no worries! You could get change at the information desk inside the bus station. There weren't enough lockers for all the people who wanted to store their bags in them, though.
2. Luggage Storage Office – There was a guy who lived in a house behind the bus station who would store your bags for you. He charged ¥500 (US$4.50 / €4) per bag. You needed to pick your bags up before 5:00 pm.
When I visited, the bus station also had a tourism information desk (lots of maps), an ATM machine, vending machines, and a restroom.
Cafes and restaurants didn't open until 11:00 am. However, there was a convenience store across from the stop for the shuttle bus to the observatory.
There was a larger Visitor's Center, but it was way across the village near the Gassho-Zukuri Open Air Museum and parking lot.
Looking for Info on Traveling to Tokyo?
How to Get Around Shirakawago
The city is small enough to get around on foot.
If you want to visit the observatory for views of the city from above, you can take a shuttle bus a block from the bus statioin.
What to do in Shirakawago
Here are 7 things you can do on your Shirakawago itinerary.
1. Visit the Observatory
I started my tour of Shirakawago with a visit to the observatory. This place is where you can get those iconic shots of the whole village.
There are two ways to get to the observatory:
By Foot: You can walk along a gently sloping footpath up the mountain. It'll take 20 minutes to get to the top. The footpath up to the observatory is closed in the winter.
By Shuttle Bus: The shuttle costs ¥200 (US$1.38 / £1.24  / €1.41 ) one way and takes 10 minutes. Unlike the footpath, the bus to the observatory still runs in winter.
The bus drops passengers off across the street from the observatory.
There are restrooms, a gift shop, and a place to buy icecream.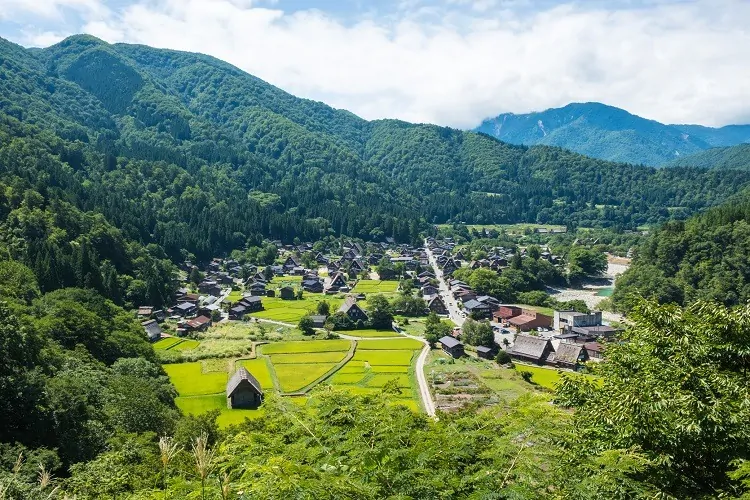 When you're at the observatory, it becomes clear how isolated the village must have been in the past. These surrounding mountains and the heavy snowfall the region received cut the villages in the area off from each other and from other regions of Japan. As a result, they developed their own unique style of architecture.
There are several viewpoints where you can take photos of the village.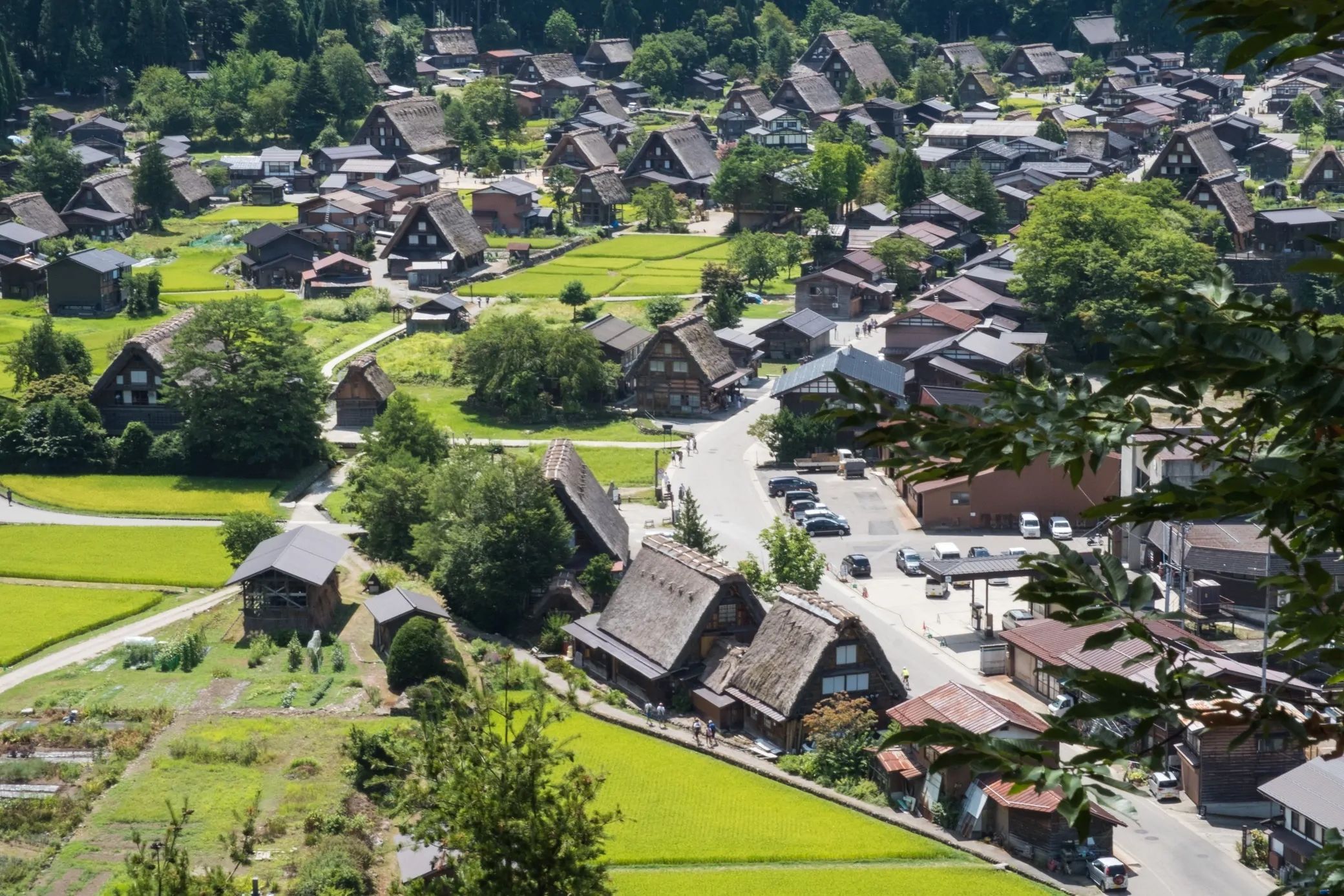 The best pictures for me were from the viewpoint near the small shrine to the right of the observatory platform and buildings.
Look for this shrine. Here is where you can get the best photos of the town below.
2. Wander Around Shirakawago
The next thing to do on your Shirakawago itinerary is to just walk around the village.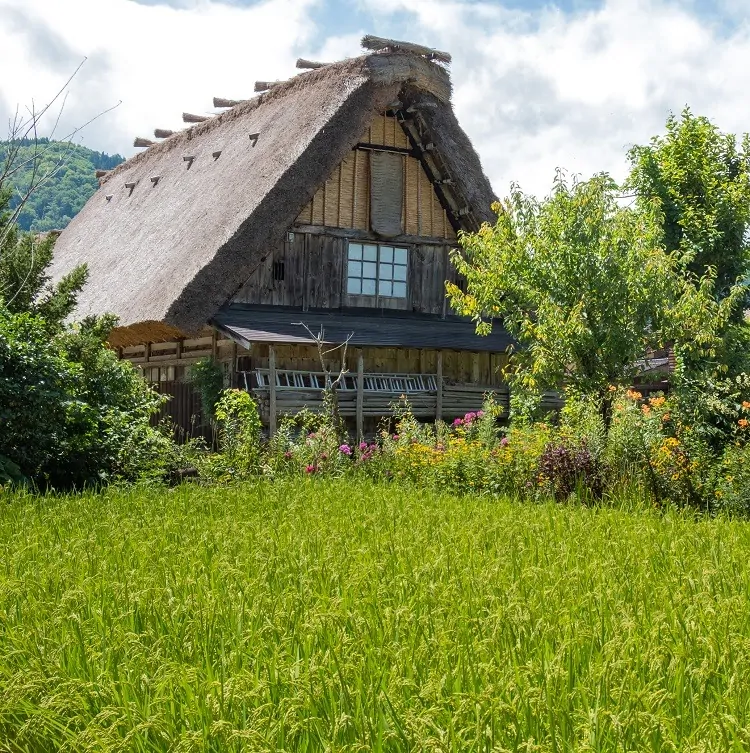 The village is full of these Gassho-zukuri houses surrounded by bright green rice paddies.
People in the region started building the Gassho-zukuri houses in the 1700s. Many that you see today are from around 1800.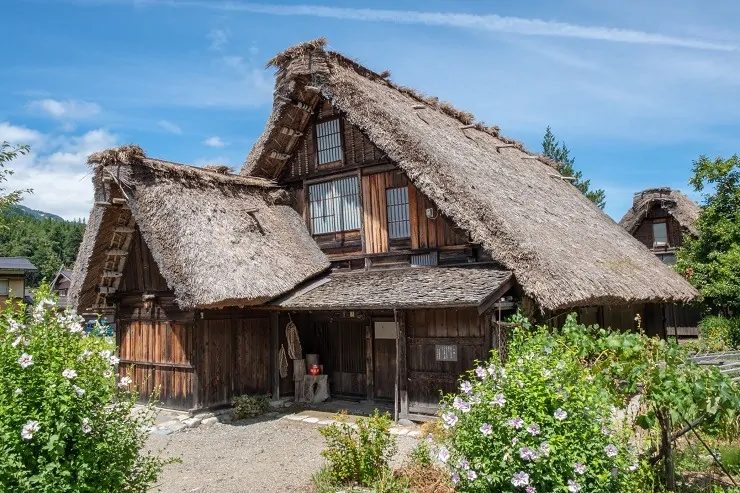 These houses have several distinct features that reflect the climate of the region. Their roofs are steeply sloped and made of thatch, making it easy to bear the weight of the snow.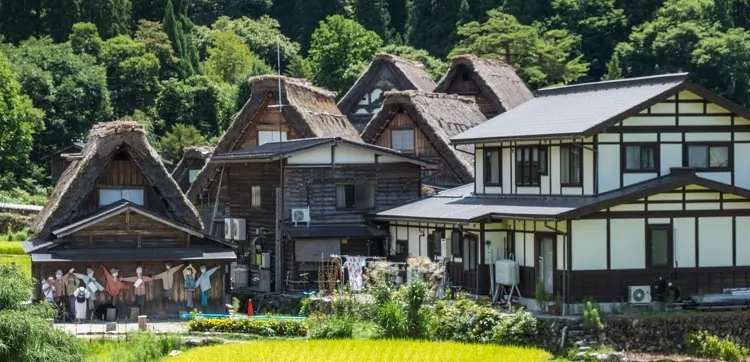 You'll also notice that all the houses are facing the same north-south direction. This has something to do with minimizing the impact of the wind, and thus making the interior of the homes warmer in winter, and controlling the amount of sunlight that hits the buildings, making it cooler in summer.
The roofs are rethatched in the spring using the grass that was harvested in the fall. In the past, the villagers would rethatch their houses every 40 to 50 years, but nowadays the villagers rethatch less frequently due to a lack of a special type of grass that's available and the decrease in the use of hearths.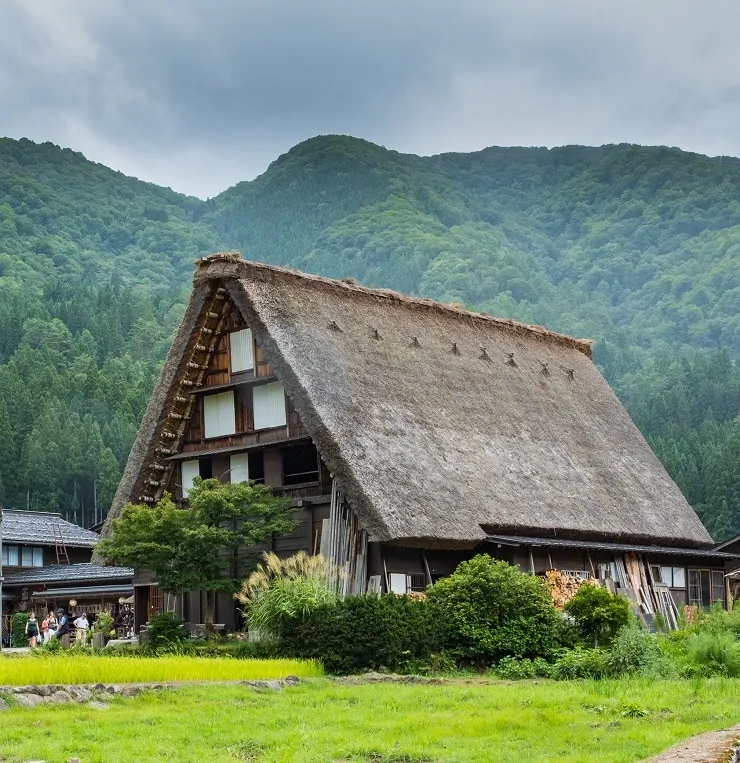 When the houses are rethatched, all the villagers come out to work on one house together. In this way, they are able to finish one house in a day.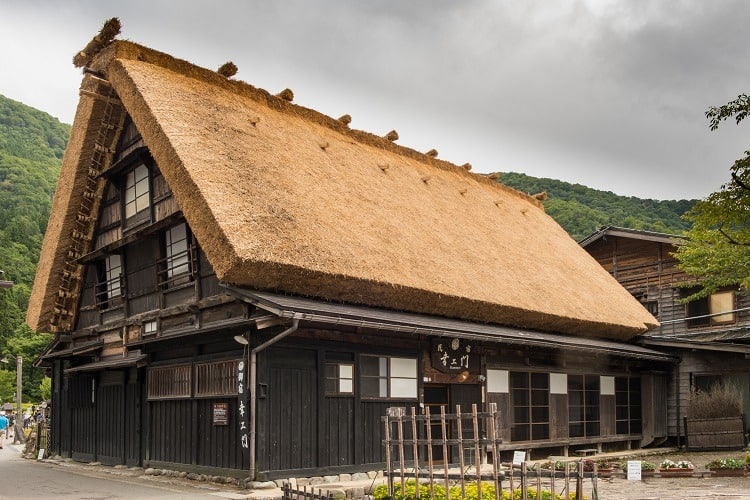 Some of the houses have been turned into Japanese-style guesthouses called ryokans and minshukus. The map from the tourist information center listed 22 guesthouses and inns in 2019.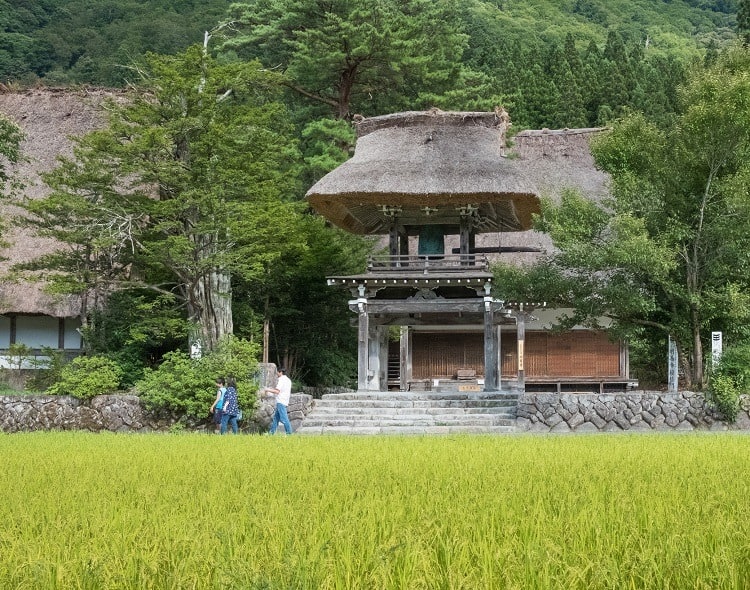 You'll also find loads of small shrines around the village like the one in the above photo.
3. Visit a Gassho-Zukuri House
COST: ¥400 (US$2.76 / £2.48 / €2.82 ) for adults; ¥200 (US$1.38 / £1.24 / €1.41 ) for children for each house
OPEN: 9:00 am – 4:00 pm or 5:00 pm (closed on Wednesdays unless it falls on a national holiday)
There are 5 houses that are open for visitors to tour. I suggest at least visiting one of them.
1. Wada House: Built around 1800, the Wada house is the oldest. The family members that lived there made silk and explosives. You can tour the first two floors.
2. Kanda House: The Kanda House was built in 1850. You can tour all 5 floors. The family that lived in the Nagase House used to be doctors. This house is the one that I visited.
3. Nagase House: The Nagase House is the tallest of the 3 houses. On the first floor is a Buddhist altar that is 500 years old.
4. Binen-Yumeromu House – According to the Shirakawago Tourist Association, this is the best house. Inside the house, you'll find an 800-year-old tree and artwork by local artists.
5. Toyama Ke House – This house was built in 1827. The first floor is where the family lived and the top floor was devoted to sericulture. You can taste local ingredients such as tofu, rice, and wild vegetables.
The first thing I noticed every time I went into one of these houses was the hearth in the middle of the first room you enter. The family members would sit around it to keep warm in winter.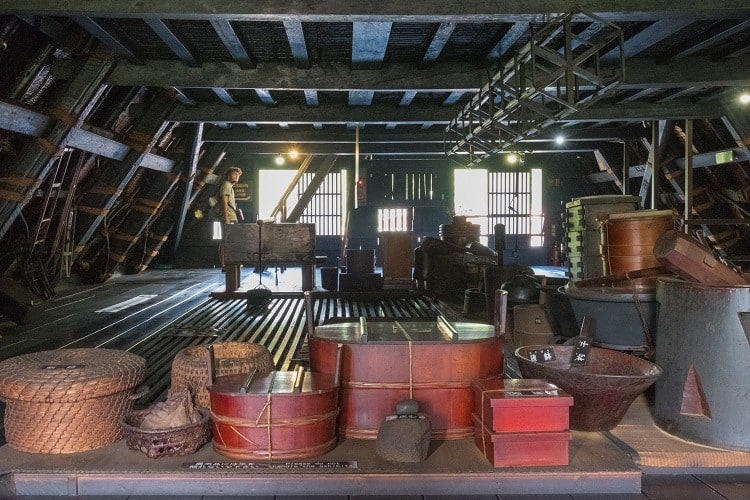 Many of the people in Shirakawago would use the upper floors of their houses for silk farming. 
4. The Gassho-Zukuri Folk Village Outdoor Museum
COST: ¥600 (US$4.15 / £3.72 / €4.23 ) for adults and ¥400 (US$2.76 / £2.48 / €2.82 ) for children
OPEN: March-November 8:40-17:00; December-February 9:00-16:00; closed on Thursdays from December to March
The Folk Village contains 25 Gassho-zukuri houses and a watermill, a shrine, and a watchtower. The buildings were moved from another area of Shirakawago and put together again on this spot.
To get to the museum, you need to cross a bridge and a large parking lot.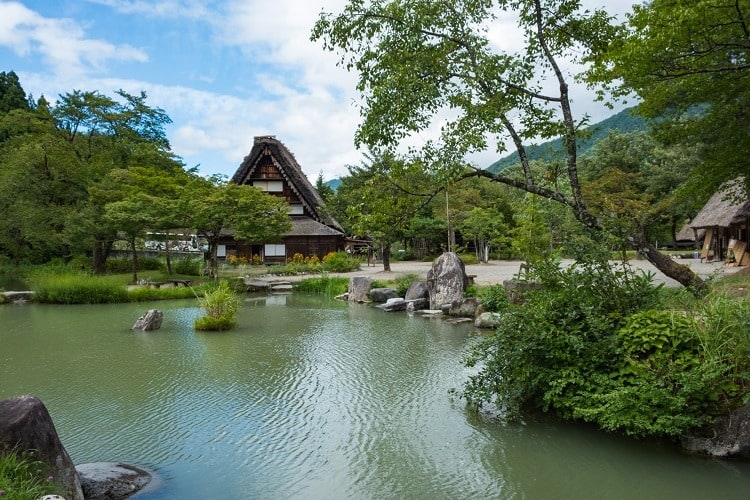 The Folk Village was definitely the least crowded place in Shirakawago.
The best part of the visit was watching a very fascinating film explaining how the Gassho-zukuri houses are built nowadays.
Each building you enter is pretty similar to the one before it. You'll see a hearth on the first floor.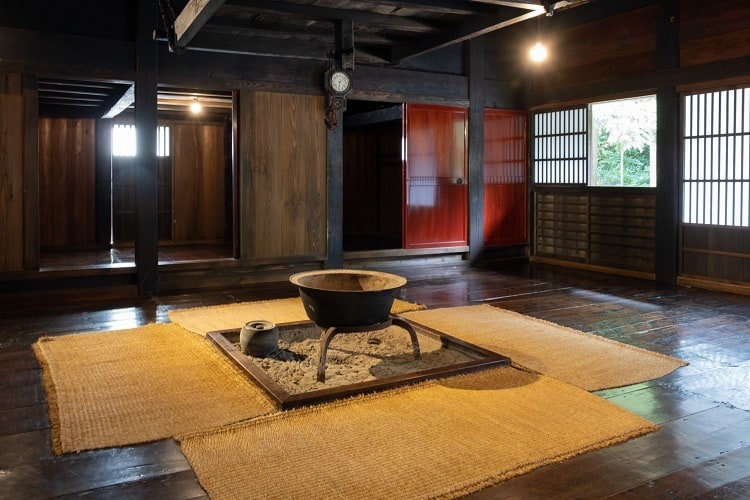 There is one house, the Yamashita house, that was built in 1750.
There were supposed to be demonstrations of regional crafts, but I didn't see any.
I think you can probably skip this museum. You'll see a lot of the same houses while walking around the village. There aren't enough explanations of what you're looking at to make it worthwhile.
5. Myozenji Museum and Myozenji Temple
COST: ¥300 (US$2.07 / £1.86 / €2.11 ) for adults; ¥100 (US$.69 / £.62 / €.70 ) for children;
OPEN: Apr-Nov: 8:30-17:00; Dec-Mar: 9:00-16:00
The building used to be the quarters for the monks from the temple, but it's now a small museum displaying everyday objects from the village.
Unfortunately, there were no signs in English explaining what you were looking at. You can easily skip this museum.
6. Tajima House Museum of Silk Culture
COST: ¥300 (US$2.07 / £1.86 / €2.11 ); children under 12 are free
OPEN: 9:00 am – 4:30 pm
The one last thing you can do in Shirakawago is to visit the Tajima House Museum of Silk Culture to learn about silk farming (sericulture).
7. Soak in a hot spring (onsen)
COST: ¥700 (US$4.84 / £4.34 / €4.93
Spend some time soaking your troubles away in a hot spring (onsen).
1. Shirokawago No Yu Onsen – Located just 2 minutes from the bus station. (Weekdays: 3:00 pm – 9:30 pm; weekends: 7:00 am – 9:30 pm)
2. Shiramizu Onsen at Hirase – This onsen is in the village of Hirase and has indoor and outdoor baths. It's 15 minutes by car from Shirakawago. (open – 11:00 am – 8:00 pm)
How to See Shirakawago's Winter Light-Up
Visiting Shirakawago in January and February has become so popular in recent years that at times you actually need to make a reservation.
The area gets a tremendous amount of snow, and when the snow sticks to the gassho-zukuri's steep roofs, the farmhouses look particularly magical. If you add illumination at night, the houses appear even more so.
The dates for 2024 have not been published yet. 
I'll give you the dates for 2023 to give you some idea of when the light-up is held:
 January 15, 2023 (Sunday)
January 22, 2023 (Sunday)
January 29, 2023 (Sunday)
February 5, 2023 (Sunday)
February 12, 2023 (Sunday)
February 19, 2023 (Sunday)
The event takes place from 5:30 pm – 7:30 pm.
For detailed instructions on how to see the light-up events, visit the website of the Shirakawago Tourist Association on how to reserve a spot. 
This PDF document also has DETAILED information on how to reserve a spot to see the light-up event.
Where to stay in Shirakawago
Because of COVID, there are no shared dorm rooms as of October 1, 2022. If you want to stay in a dorm room, you have to book the whole room.
Shirakawago Guesthouse Kei – (Booking.com | Agoda) A guesthouse with affordable private rooms and dorm rooms for single travelers. Cozy, friendly, and clean.

Guesthouse Ant Hut – (Booking.com | Agoda) a cozy and comfortable 2-star hotel within walking distance of a convenience store and 2 popular restaurants. There's a shuttle that can take you to the bus station or else it's a 20-minute walk. Owners are friendly, kind, and helpful.
Onyado Yuinosho – (Booking.com | Agoda) a 4-star ryokan that's got a mixture of both modern and traditional features. It's a 30-minute walk from the main part of the village, but the hotel has a shuttle. There's an on-site onsen and sauna. The rooms have beautiful views of the mountains. Make sure to book a room that includes breakfast and dinner as restaurants close early and the hotel is far from most restaurants.

If you want to stay in Ainokura, Japanese Guesthouses website lists around 5 minshukus. They look to be cheaper than staying in Shirakawago.
You might be interested in these posts:
Are you on Pinterest?
Hey! How about saving one of these pins to Pinterest to read for later?
And feel free to follow me on Pinterest, where you'll find lots of travel articles for everywhere around the world.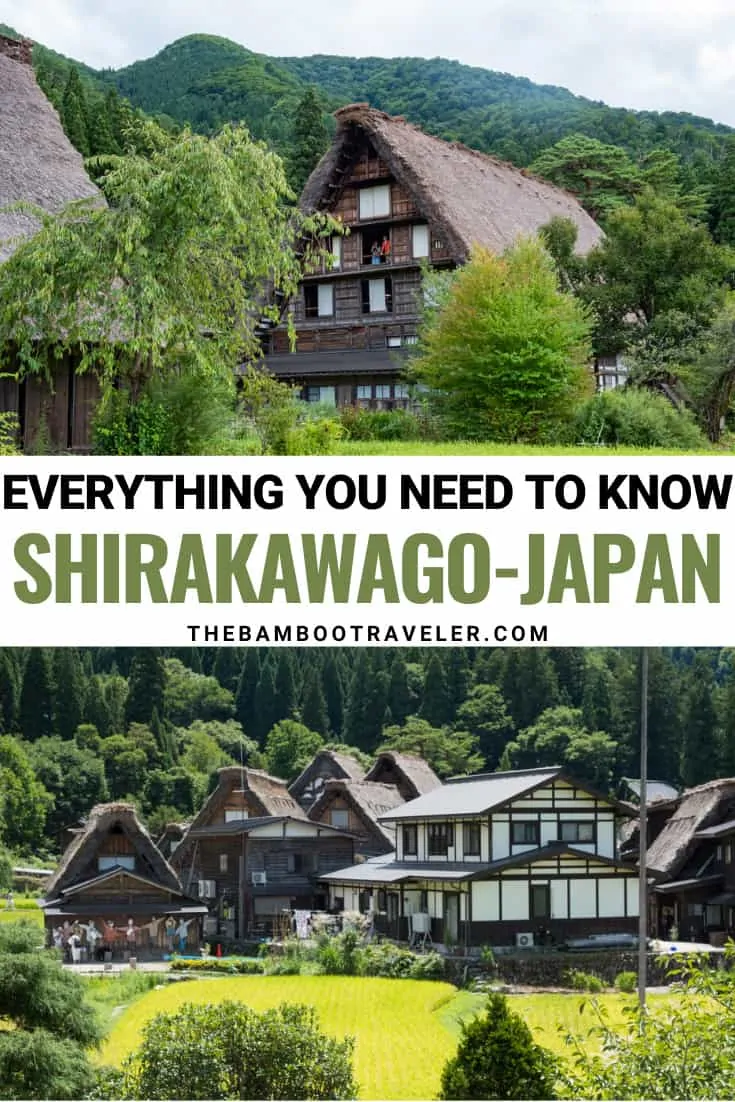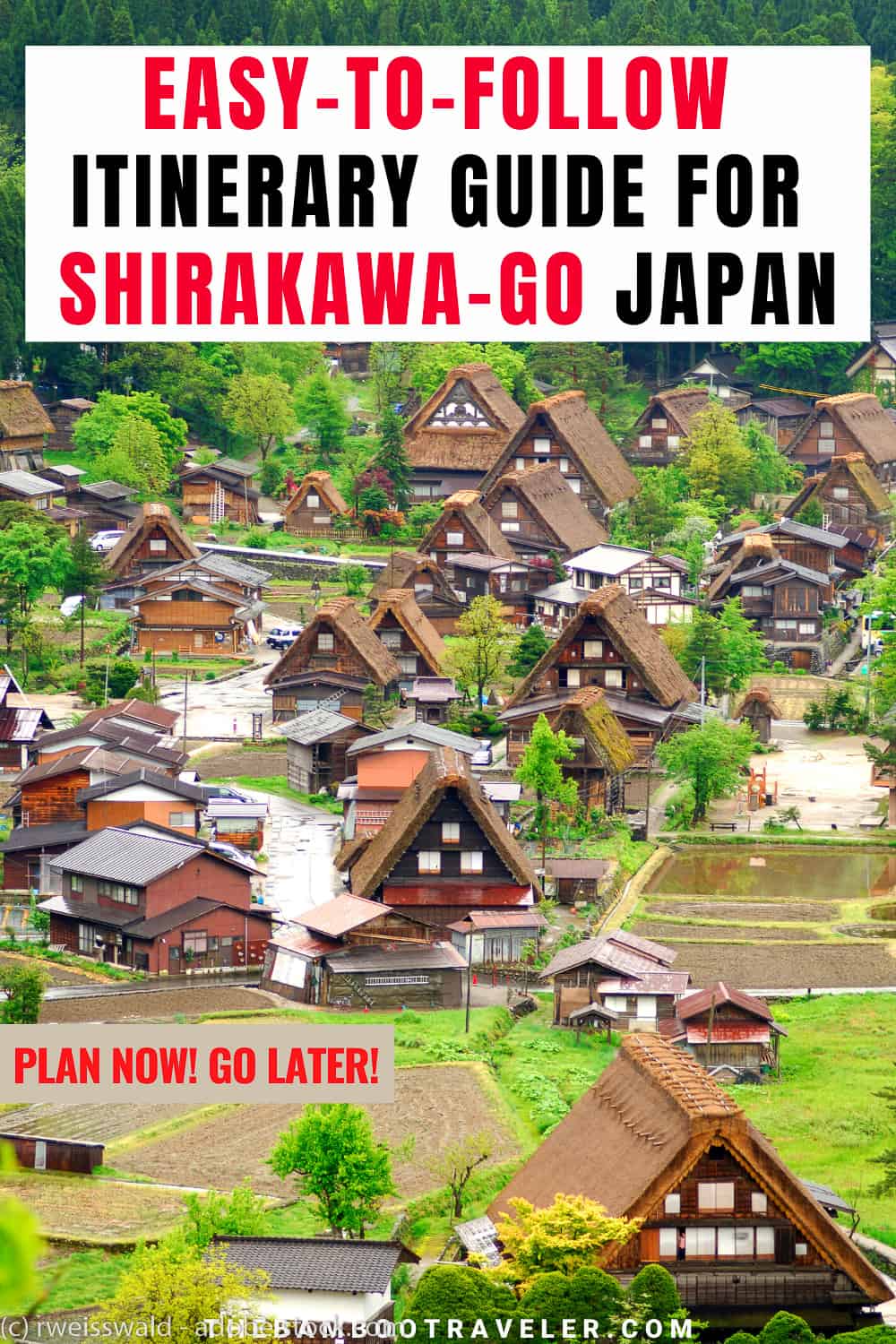 What are you looking for?
About the Bamboo Traveler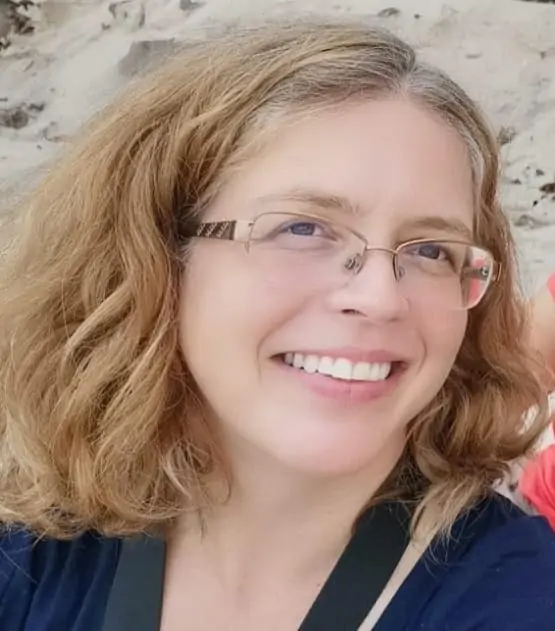 Welcome to The Bamboo Traveler, a travel blog dedicated to helping those travelers who want to dig deeply into the history, heritage, and culture of a place. Whether it's through the pages of your passport or the pages of a book, I'll help you travel the world and uncover the history, culture, food, architecture, and natural beauty of some of the world's most fascinating places.
Posts about Kyoto